Message from seniors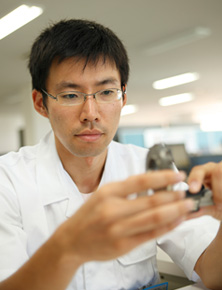 I'm in charge of design to develop our products in accordance with customer's new model concept. I am trying to exploit flexible imagination, originality as well as logical thinking to make our products meet customer needs including target cost and exceed our competitors'.
I hear various opinions and advices from sales, production engineering and manufacturingassociates to give shape to my ideas. I really understand the importance of communication with others.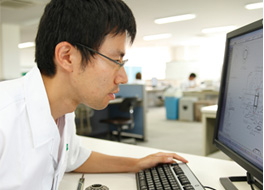 At my work I make use of 3D-CAD to draw my ideas and develop prototype meeting with functional requirements of product through calculating its weight and rigidity.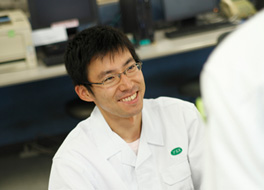 For existing products we are working on improvements in respect of product cost and performance, trying to get hold of industry trend and customer needs. For new product development we are pursuing realization of product with higher added-value which competitors can not follow, making full use of our own forging or aluminum die casting technology. For both tasks we need mental energy and patience, but it is difficult to express how happy we feel when we finally gave shape to our ideas. This is very worthwhile job.