Message from seniors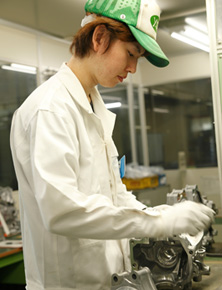 I am taking care of production at the machining line for aluminum products. I am working on not only operation of the machine, but also on a series of job related to production field such as quality, delivery and cost control.
The product which I am processing is very important for normal function of car . If anything wrong happens to the products, it may cause a fatal car accident. Therefore, under the slogan "Next process is my customer", I am fulfilling my job with the respect for quality.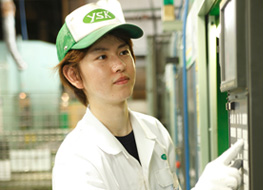 Our strength is that we have integrated production system from molding to machining or assembling under collaboration of the group companies. As we can work on improvement activity not only for our own process but also for neighboring processes, a small improvement sometimes brings about a big contribution. In that case I need to work with other sections such as production engineering or facility maintenance. and then requires knowledge on material property, machining technology, mechanical or electrical engineering which I did not learn at school.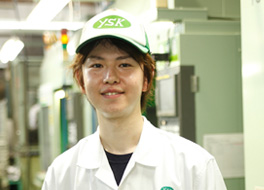 However it is very interesting to learn high-level knowledge in other technology fields and I am getting more and more interested in my job. As I originally like to create something, it is very enjoyable to operate machine and give shape to something.
By getting the job more efficient through some improvement which I proposed, I feel very fulfilling and pleasure in particular to contribute to the company. Succeeding Monozukuri experiences and know-how which my seniors have accumulated and enhancing it to the next higher level is my objective. I think it is pursuit of Monozukuri.