Environmental activities
Activities for environmental protection
Environmental loading reduction being regarded as one of high priority issues for social responsibility, environmental protection such as CO2 reduction, participation in local activities and zero emission is actively pursued.
Activities through product features
[ Strengthened basic research ]
Pursuit of highly efficient transmission unit, which is main part of power-train system, helps promote higher gas mileage and CO2 reduction.
[ R&D for new material ]
R&D for material change to save weight helps promote cleaner vehicle.
Activities at manufacturing processes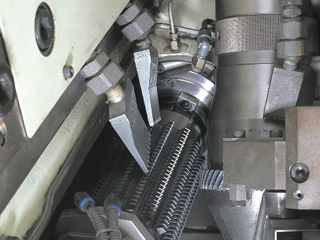 [ Machining facilities ]
Waste is reduced with totally dry machining operation without cutting oil.