R&D for aluminum technology
Establishing original manufacturing technology, R&D tasks are pursued in view of mass production from planning through quality assurance of targeted products.
R&D for weight saving
R&D theme with combination of product requirements and advanced die cast technologies, such as hollow die cast and thinner-wall lightweight die cast, are planned and promoted for suggestion to customers.
R&D for manufacturing method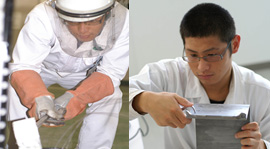 R&D for manufacturing method are continued to realize manufacture of technically high-level products with full use of highly efficient die cast technology such as vacuum filling, hollow die cast with cores and thinner wall filling.
Analysis technology
Data such as temperature, velocity and pressure are monitored. Microstructures and elements are observed for inner part of product. Various information procured from manufacturing processes and experiments are analyzed and molding mechanism of aluminum is investigated.

CAE technology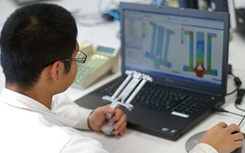 At our casting simulation using original data base and coefficients established through our internal experiments, crucial factors of casting technology such as filling process, congealment process, mold temperature and heat transformation can be reproduced close to reality and it is very useful for pre-study of new products as well as quality improvement of existing products.
R&D flow
| | |
| --- | --- |
| Aluminum material | In addition to overall aluminum die cast alloy, various sorts of alloy are dealt from material development stage according to product function. |
| | |
| Investigation for mold design | Die cast experiences and know-how is accumulated from 1977. The newest CAE(Computer simulation) technology is utilized to optimize mold design and casting parameters from Monozukuri viewpoint. |
| | |
| Mold design & manufacture | Stick to internal die manufacture, its procedures from drawing, cutting and assembling are conducted in a series with original technologies incorporated in many spots for complicate and highly functional aluminum products. |
| | |
| Die cast | Mass production using around 60 units of die cast machine ranging from 350- ton to 1650-ton possessed in our group is presumed from R&D stage. |
| | |
| Material quality verification | Verification by means of realistic CAE and actual production trials stabilizes product quality and thus manufacturing processes are refined and completed. |
| | |
| --- | --- |
| R&D for casting technology | Through mass production support for die cast, technological investigations for material change, weight-saving and new manufacturing method as well as trial evaluations, future aluminum product is proposed at Technical Center with full use of CAE and various quality equipments. |